This week I'll be doing something a little different here on Of Such is the Kingdom. Instead of my usual smorgasborg of
crafts
,
activities
, and
recipes
, I'll be sharing my outfits with you as a part of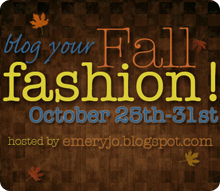 I'm mostly blaming my bloggy friend from
Leaving the House in THIS?
for all this fashion craziness, but here I am. I assume that most of the people participating in this are just sharing their one outfit for the day, but since I wear so many different "hats" I often have more than one outfit--so I'll be sharing each one and telling you what my routine is for each day as well.
Outfit #1 for Monday
It's a rainy, foggy morning here so I'm dressing simply. My duties for the morning are to make the morning pot of oatmeal, help the two big kiddos get dressed, kiss the hubby as he leaves for work, and get the big kiddos out the door for their ride to their homeschool tutorial. Then I'll blog, clean house, and do laundry while I take care of the youngest. (It is very hard to blog with a snuggly 2yo in your lap, but it is great nonetheless.) Today's pics are all using the timer, but I'm hoping that my oldest will help me out for the rest of the week. She's a great photographer, and I'm hoping she'll let me share some of her outfits with you as well. (2yo exits lap to pick up humming light saber and use it as a vacuum!)
At 12 on Mondays I teach a ballet class for a group of neighborhood girls at a friend's house who has a studio in her home. So, in comes
Outfit #2 for Monday
Never a dull moment around here, I assure you! A friend picks up the biggest two from their tutorial and keeps them and the youngest while I teach her daughter (and 10 others) ballet. (2yo back in the lap) My kids will be eating their lunch of
homemade kids' meals
while they are at my friend's house. Then I pick up my kiddos and come home for a nap for the youngest and homework and rest time for the older two.
In the evening on Mondays, I help teach an ABCs of Baby Care class at a local pregnancy resource center. We teach moms who have chosen to parent their babies, and by "teach" I mean share knowledge from books and internet and a few of our own experiences. We teach everything from how to put on those ridiculous snappy gowns in the hospital to how to bathe your baby to how your relationships will change after baby's born. It's a fun class, and every time I co-teach it, I learn something from the other teachers. For this class, I need to look professional, so that brings us the third and final outfit.
Outfit #3 for Monday
This brown dress is one of my favorite pieces of clothing. It's from a Marshall's type store (can't actually remember) and I think I paid $11 for it. It can pull down as a skirt as well as be a strapless dress. The sweater is an old (
old
) Target sale-rack purchase. ($6) Shoes are from Rack Room. The accessories are where this outfit gets fun. I bought the scarf that I'm wearing as a belt on my very first trip to China, very first day, at the Great Wall of China. I was the first one from our group to venture out to make a purchase, and I didn't even try to bargain--I just paid my yuan and grabbed the first scarf I saw. It's not the colors I would usually pick, but it has grown on me over the 12 years I've owned it. The bracelets are various ones that my mom and grandmomma have made and given me; another one was given to me at my college graduation, and I inherited one of them when my Granny died. The fact that this outfit tells a story about me and my family
Makes My Monday
.
So there you have it, my first day of fall fashion!