Updated 9:32 8/4/10: The winner for this post is Audra with her comment, "I love, love, love the homemade kids' meals!" Thanks, Audra, and I'll be getting your prize to you. : )
First, some
products
I love:
1.
Spirulina
--This is my all-time favorite, I can't live without it, best ever wonderful product. (Can you tell that I kind of like this stuff?) I take it like a supplement, but it's actually an algae--a food that somehow keeps you energetic and healthy. Woo hoo! I literally have not been really sick in the past 4 years except when I ran out and didn't reorder right away. And, I had huge problems with fatigue before I began to take it, and those problems are all but gone now. I HIGHLY recommend this for mommas!
2.
Exercise the Alphabet Cards
--this product is fun, educational, and free! You can't beat that. Each card has a letter and an exercise. Warning: these can lead to fun family games!
3.
rbt bags
--You'll have to ignore the giveaway on this post, but the bags are truly awesome! The creator of these is in my community and she's one of those wonder women who has a house full of boys and yet manages to make some wonderfully practical and beautiful creations.
4.
Gallon sized baggies
--this is one product that we moms can't live without, and in this post I poke a little fun at that fact with an ode.
5.
Songs for Saplings
--here's another one where you'll have to ignore the giveaway; I just love giving away products I love! These songs teach my kiddos (and myself) both scripture and catechism,
and
they are pleasing on ye ol' momma's ears. They have a folksy sound that I really love!
Now on to my fave recipes:
6.
Cheeseburger pie
--I made eight of them (yes, 8!) yesterday for various meals I've committed to making. These freeze great and, since they're made in a pie pan, are great for giving a meal away (just add bread and salad!) Oh, and this link also has the recipe for cheeseburger buns, which are easy, yummy, and also freeze well.
7.
Home-made Kid's Meals
--We use this one when we travel, but it would also work well for a special school lunch. I finally figured out a cheap, small box to pack the lunch in too--a pencil box works great!
And a few of those philosophy of parenting posts:
8. "
Our Duty to Do
"--
"So likewise you, when you have done all those things which you are commanded, say, 'We are unprofitable servants. We have done what was our duty to do'" is definitely not my favorite verse in the Bible! But oh, how it speaks to my mother-heart! I want to serve without expecting praise, but it is really, really hard!
9. Courage--This post features my absolute favorite quote about parenting. To sum it up: "s

o this is courage: that parents rear up their children to serve to the Kingdom, no matter what the cost."
10. Prayer--I need this reminder every single day. It is very important for parents to pray!
Remember that here at Of Such is the Kingdom, we are celebrating a FIRST BIRTHDAY!! Every day I'll be choosing a commenter (who is also a follower) to win a small prize, and on August 14th, I'll tally up all who have commented for the entire two weeks and pick 10 winners for gift cards. Woo hoo! It's really party time!
For commenting today, I'd love to know your favorite post from Of Such is the Kingdom or from your own blog. I'll be looking forward to picking a winner at 9pm tonight. As always, you can comment extra times if you facebook, twitter, or blog about this party.
Linked to Top Ten Tuesday, Tempt My Tummy Tuesday, and Tasty Tuesdays over at Balancing Beauty and Bedlam and A Beautiful Mess.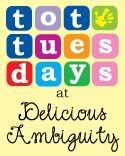 Also linked to Tot Tuesdays!